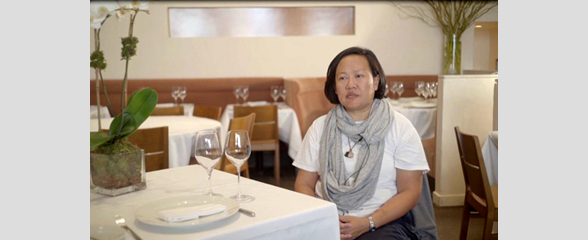 Anita Lo is a first-generation Chinese American chef. Lo grew up in Birmingham, Michigan, and developed her interest in multicultural food at an early age. Leaving her white suburban hometown to attend boarding school in Massachusetts, Lo was introduced to a wide variety of cultures and people. She went on to study French at Columbia University, traveling abroad to attend Columbias French institute in Paris, where she quickly fell in love with French cuisine. After returning from abroad, graduating, and working at several New York City restaurants, Lo returned to France and attended the culinary school Ecole Ritz-Escoffier. Lo returned to New York and worked in several prominent eateries, including chef David Waltuck's Chanterelle. Having developed her own unique contemporary American style and seeking creative control over her cooking, she opened her own restaurant Annisa in 2000. Lo describes her interest in adventurous, multicultural food and notes the importance of sustainably sourcing ingredients, especially seafood. She aspires for a more inclusive and equitable restaurant world. In the future, Lo hopes that minority chefs will be allowed to diversify their cooking beyond ethnic food and pave the way for less racialized kitchen spaces.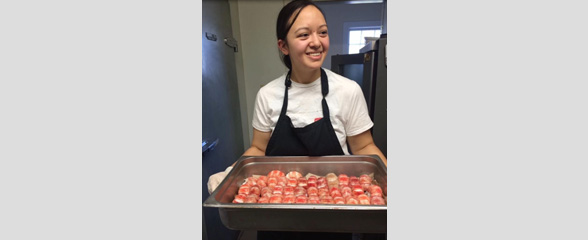 Cara Stadler is a third-generation Chinese American chef. She was raised in Massachusetts and grew up biracial in a predominantly white community. Stadlers love of food began during her childhood, when her mother would make a wide variety of Shanghainese dishes. While Stadlers culinary education began in her mothers kitchen, her career experience started in American restaurant kitchens. She worked under Marsha McBride at Cafe Rouge in Berkley and then Striped Bass in Philadelphia. As her passion for food grew and she realized she wanted to pursue a professional career in the culinary arts, she moved to France to hone her fine dining skills. Stadler studied the artistry and technical precision of French cooking while working at Guy Savoy and Gordon Ramsays Au Trianon Palace. Afterwards, she worked in different parts of East Asia including China and Singapore. During this period she launched the prive fine dining service Gourmet Underground in Beijing. Stadler returned to the U.S. in 2011 and collaborated with her mother to open her first restaurant Tao Yuan in Maine. They also later opened Bao Bao Dumpling House together. Stadler credits food for reconnecting her to her Chinese heritage. She expresses excitement at the growth of ethnic foods in the United States, noting that the American public is increasingly open to foreign foods and flavors. Stadler also underscores the importance of sustainability and ethical ingredient sourcing in the food world, and she adds that she hopes to contribute to positive changes in the industry.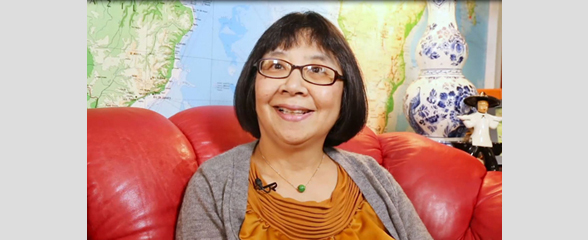 Yvonne and Mike Thompson are restaurant owners who started their small business in Pounding Mill, Virginia in 1979. Their restaurant, Cuzs, brought an unexpected combination of Southern homestyle cooking with Chinese cuisine to their small coal mining town. Yvonne was born and raised in Hong Kong and describes enjoying delicious home cooked meals as well as dim sum restaurants and banquets during her childhood. She later moved to St Louis, Missouri to attend college and work in her Uncle Wongs upscale Chinese restaurant The Lantern House. Eventually opening a barbeque restaurant on her husband Mikes family dairy farm, Yvonne explains how she gradually shaped their menu to include American Southern-Chinese fusion dishes like their popular cheese eggroll. Yvonne is proud of the cultural impact Cuzs has had on their small coal-mining community. Mike Thompson was born and grew up in Cedar Bluff, Virginia. While several of his family members became doctors and pursued the medical field, the family also owned and operated a large 5,000 acre farm. Mike fondly describes his childhood experiences of enjoying his mothers homestyle Southern cooking and hospitality. He goes on to describe how he opened Cuzs restaurant with his wife Yvonne on his familys farm. Mike notes that international travel has played a significant role in expanding his palette and improving his cooking.